Ophthalmology Referral Service at Kidderminster Surgery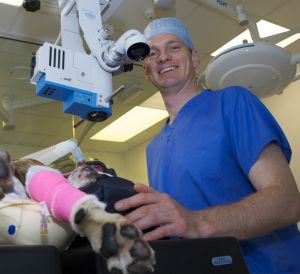 We are delighted to be now able to offer clients referral to our Veterinary Ophthalmologist Mr Brian Patterson BVM&S Cert VOphthal MRCVS.
Brian will be holding regular weekly clinics at our Kidderminster surgery.
Referrals are being taken from veterinary practices throughout the West Midlands including our own.
For clients who wish to discuss having their animal seen by our ophthalmologist please contact your veterinary surgeon at your own practice to arrange a referral. We will need a full clinical history and referral letter from your own vet to be able to arrange the appointment.
VETERINARY SURGEONS wishing to contact Brian to discuss a referral case please telephone :-Mel on Telephone number 01453 547934
CLIENTS wishing to arrange an appointment with Brian please discuss with your own veterinary surgeon to arrange a referral appointment. Appointments cannot be made without a formal referral from your own veterinary surgeon. This is because we need your animal's clinical history and to report back to and liaise with your vet about further treatment options.
BIOGRAPHY: Mr Brian Patterson BVM&S Cert VOphthal MRCVS.
Brian was awarded the RCVS Certificate in Ophthalmology in 2002 while a resident at the Weipers Centre, University of Glasgow. As a full time veterinary ophthalmologist, Brian has been involved in teaching at the University of Bristol (2010-2012) and has lectured both nationally and internationally.
Services:
Free telemedicine service
Cataract evaluation and treatment including removal by phacoemulsification with lens replacement
Multimodal management of non-healing corneal ulcers
Oculoplastic surgery - including diamond eye and brow suspension surgeries
Management of challenging dry eye cases including parotid duct transposition surgery
Micro surgical facilities allowing advanced vision sparing surgeries such as corneo-conjunctival transposition (CCT)
Thermokeratoplasty in cases of endothelial decompensation
Lens luxation management including small incision lens phacoaspiration
Sudden blindness investigations including electroretinography
Surgical and laser interventions in selected cases of glaucoma
In house, multidisciplinary support for ophthalmic disease of systemic origin.
Extensive ophthalmic pharmacy